Finding the Right Veterinarian for Your Dog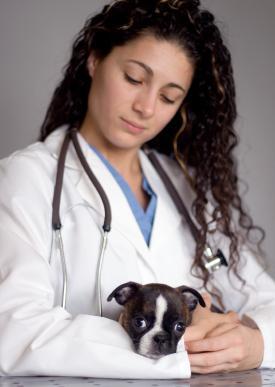 Finding the right veterinarian for your dog is as important to your his overall well-being as finding the right pediatrician for your child. There are several factors to consider:
1. Location--although you wouldn't choose a veterinarian for this reason only, the closer the veterinary clinic is to your home, the quicker you can get there in case of emergency. You don't want to have to drive twenty miles if your dog's been hit by a car.
2. Size--again, you wouldn't choose your vet based solely on the size of the clinic or the number of employees, although the larger clinics will likely have more than one veterinarian on staff. This is a plus if you need to bring your dog in on short notice and your regular vet cannot accommodate you. The larger clinics also may have more specialized equipment to perform diagnostics.
3. Friendliness--how are you and your dog treated when you first arrive? Are you greeted in a friendly, courteous manner by the front desk? Observe how other visitors and their pets are treated as well. Also notice telephone manners. The best veterinary support staff are courteous, friendly, and efficient while being personal at the same time. You don't want to be treated like you're are on some kind of impersonal assembly line, particularly if your CBF is really ill and you're upset.
4. Cleanliness--this is extremely important. Veterinary clinics treat a lot of different animals for a lot of different reasons on any given day, so cleanliness is paramount to avoid the spread of germs. If a pet has an 'accident' or vomits, the staff should take immediate action to clean up the mess and sanitize the area. Examination rooms should be sanitized between patients. All instruments should be spotless, and the staff should wash their hands thoroughly between patients. If you don't see the vet or staff washing their hands, and the examining room is not spotless, this is not the clinic you want.
5. 'Bedside manner'--this is probably the second most important reason to choose a veterinarian (the first is cleanliness). Your veterinarian should have a true love of animals and have it show. (Believe it or not, there are some vets who really aren't 'animal people'. I've met more than one, and am still trying to figure out why they became veterinarians in the first place.) Your veterinarian should treat both you and your dog with respect, handle him gently, and take the time to thoroughly explain any treatments or medications he is to receive and also to thoroughly answer any questions and concerns you might have.
6. Type of practice--you may decide, after visiting several veterinarians that practice 'traditional' Western medicine only, that you wish to try a vet that practices alternative medicine. So then it's back to the drawing board...
7. Insurance--if you have pet insurance, you'll want to make sure the veterinary clinic accepts your plan.
8. Specialties--some veterinary clinics provide general care but specialize in a particular aspect. For instance, Buster's holistic veterinarian works at a clinic that specializes in veterinary dentistry. Other clinics may offer a whole plethora of services, such as boarding, grooming, training, etc. Other clinics are highly specialized and are by referral only.
9. Credentials and Affiliations--your veterinarian's diploma(s) should be displayed prominently in the clinic. Take a quick peek to make sure your veterinarian graduated from an accredited veterinary school. The year he or she graduated is also an indication of how many years' experience your vet has. Bonus if the clinic has an affiliation with the American Animal Hospital Association or a similar organization that regularly monitors practices and protocols. Click here to find an alternative veterinarian in your area. Always remember that the veterinarian that's best for you and your dog is the one that provides uncompromising care with a high degree of professionalism and compassion, and you won't go wrong. You owe it to your CBF to provide him with the best possible care!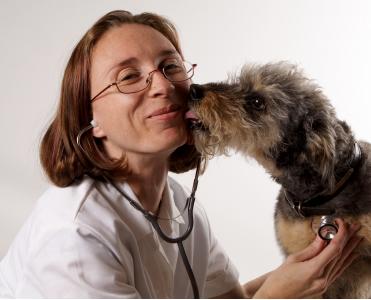 You've 'sniffed out' the perfect veterinarian to keep your dog happy and healthy! Please visit our page about vaccines and when your dog needs them.