Gifts for Dogs (and the People Who Love Them)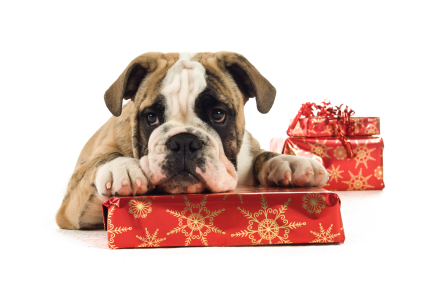 Holiday Gifts for Fido
The holidays usually mean gifts, and you certainly don't want your CBF to be left out of the fun, do you? Well, Buster has some terrific ideas to help your canine buddy feel frisky, fun, and festive.
Do you live in a colder climate? Does your pup have a short coat--or is he perhaps an older guy or just likes to keep cozy during the winter months? Perhaps a stylish, warm sweater or coat would be just the thing for him. We like the Hip Doggie Super Star Sweater Vests for Dogs
. This super-soft, comfy sweater comes in different sizes and colors, so there's sure to be just the perfect one for your little superstar!
Help your pup channel his 'inner elf' with the Martha Stewart Pets Elf Pajamas
. They're holiday-appropriate and will keep him cozy while visions of sugarplums dance in his sleepy little head!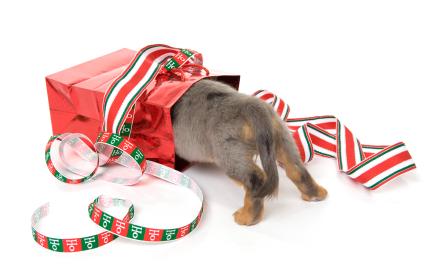 Toys, Toys...and More Toys
Looking for the perfect toys to give to your CBF on Christmas morning? If you're going 'classic', we suggest KONG Classic Dog Toys
. This is not only a fantastic chew toy, but the opening can be stuffed with any number of treats for added fun, such as bits of kibble or dry treats, peanut butter, or any of the KONG products such as KONG Pepperoni Flavor Easy Treat Paste
. And here's a great idea that we've personally used: Stuff a KONG toy with peanut butter (or insert some dry kibble and seal the opening with peanut butter) and put it in the freezer for awhile. Presto--a pooch pacifier!
Does your pup enjoy a rousing game of Fetch? If so, then maybe the Chuckit! Pro Ball Launcher
is the ideal toy for both of you! Your dog gets to chase the ball--and you get to keep your hands drool-free! It's high-flying fun for all!
Is your pup into chewing? Give him something to gnaw on other than the furniture (or your shoes) with the Arm & Hammer Baking Soda Infused Bone
. The plus here is that the baking soda will help to clean his teeth and freshen his breath (which may also be a gift for YOU).
Does he enjoy squeaky toys? Then the Hear Doggy! Flats Animals
may be just the thing! This cool toy makes a 'squeak' that your dog can hear but you cannot--and it also contains no stuffing for your dog to yank out and spread all over the carpet. (Been there, picked it up WAY too many times...)

Gifts for Dog Lovers
Looking for that perfect present for the dog lover in your life? Buster has that angle covered too! If you're looking for something breed-specific, then the APRICOT BRINDLE Mastiff Door Topper
might be just the unique gift to please that special person. This cool accessory is available in a variety of breeds and is guaranteed to bring a smile to the recipient's face.
Or...maybe it's time for the Affenpinscher Watch - Large Face, Black Leather
. (Sorry, bad joke.) This quality timepiece is adorable and is available in different breeds.
Is your pal a tidy sort? Then the Akita Wipe Your Paws Decorative Sign
may be just the perfect (but gentle) reminder for all who enter your friend's home! Again, this cute sign is available in several breeds.
If you're looking for something a little smaller, then maybe the Golden Retriever Night Light
is just the thing. (This gift could also prevent the dog from being stepped on or tripped over in the middle of the night...bonus!) This cute gift is also available in several different breeds.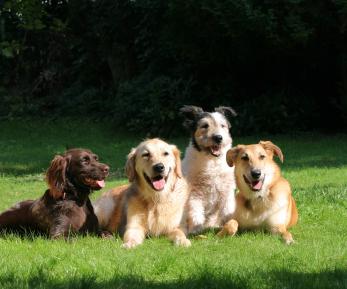 This May Be the Best Gift of All...
If you're still looking for that extra-special perfect gift, and haven't found what you're looking for from our suggestions above, I do have two more suggestions. The first one is to make a donation in your friend's name to your local animal shelter. Your dog-loving friend will appreciate your generosity and thoughtfulness, and your donation will help to care for the thousands of shelter pets to move them closer to finding 'forever' homes. The other suggestion is your friendship. It doesn't cost any money, comes in all sizes and colors, and may last a lifetime. (Come to think of it, our furry pals could teach us a thing or two about this last one...)

We at Buster's Dog House wish you the most amazing, joyful, and blessed holiday season ever. Please check out our other pages for more fun dog stuff!
Return to Home Page