Dog Dishes & Feeders
Every dog needs attractive, sturdy dog dishes for his food and water. But there are so many choices...which dishes are best for your furry buddy?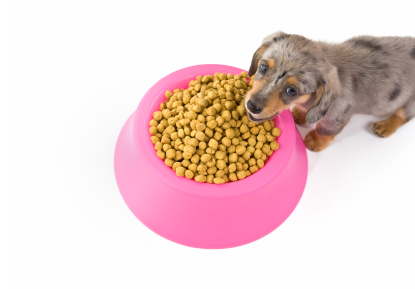 Stainless steel dog dishes are a good choice. They're non-porous and easy to clean. Another plus--most dogs won't pick up or chew on a stainless steel dish--but there are exceptions, and a stainless steel dish can be pretty noisy if your dog decides to drop it on the floor or kick it across the room! (Maybe he's trying to tell you something...) Stainless steel dishes are available in traditional styles as well as a slanted 'no-tip' style and a type that's meant to clip on the inside of a crate. (I guess you could call this a 'no-tip' style as well.) A big drawback with stainless steel dishes is that they're only available in one color, which is, well, stainless steel! One of the neatest ideas I've seen for these is a set called the Double Diner, in which the bowls are deep and narrow. If your dog has long ears (think Bloodhound or Basset Hound), you'll really appreciate these. They're plenty big enough to hold dinner and beverage, but their narrowness keeps your CBF's ears from dragging in his meal!! Click here to see this great idea. Double Diner (Long Ear) 1-Quart
If you want a dog dish that's a little fancier, or one to match your decor, then a ceramic dish may be just the thing. Ceramic dishes are sturdy and heavy, and they're unlikely to be used as a hockey puck by an eager dog. (Buster's predecessor, a Lab mix named Samson, liked to send his dog dish flying across the room when it was empty--he shoots, he scores!! I switched him to a ceramic dish and the hockey game ended.) Ceramic dishes come in all colors and prints and are readily available in most pet-supply stores. Cherrybrook has a neat ceramic dish that is also tip-proof and is available in several colors to fit every decor. Click on the following link to see this dish. Paw Print No-Tip Bowl 5in Purple
Plastic dog dishes are also available, but I don't recommend these as they're not chew-proof. Also, plastic dishes can get scratched up, and bacteria can grow inside the scratches. Stainless steel and ceramic dog dishes are more durable and sanitary than plastic dishes.
If you're traveling with your dog, collapsible dog dishes are useful. These are made of a sturdy fabric which has been waterproofed. They will actually stand up on their own when filled. Buster has one of these--very handy when we go to the park on a warm day as it easily holds water too. I fold it up in my purse when it's not in use.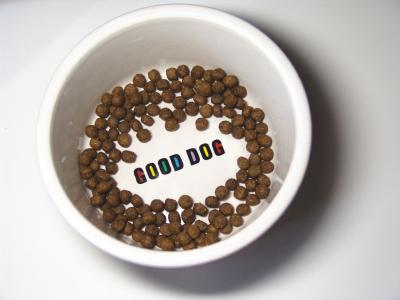 Elevated dog feeders are a popular option, especially for larger dogs. These feeders place your dog's dishes at a level where he doesn't have to bend down to reach his food and water. This is more comfortable for your dog if he has joint problems, as it provides less strain on his neck and back. Dog feeders are available in a variety of attractive styles and materials, from wrought-iron feeders to painted- or natural-finish wood feeders with biscuit shaped cutouts. Feeders come in several heights, too, so it's important to pick the right height for your dog. He should be able to comfortably reach his food in the dog dish without having to bend down too far--or strain upward. Some dog feeders come with dishes, while others require you to supply dishes separately. Some of the wooden dog feeders we've seen have built-in storage for dry food. Prices for dog feeders can range from about 20.00 for an extra-small feeder to over 100.00 for a custom wooden feeder. Click here to see a nice, sturdy, moderately-priced dog feeder. Stainless Steel Adjustable Double Diner 2 Quart
Another type of feeder dispenses food and water automatically. The dishes and food/water reservoirs are part of the same unit, which dismantles easily for cleaning. There is a model of this type of dog feeder that has a timer. This is a great idea if your dog is a real 'chowhound' and will eat continuously if given the chance! Automatic feeders are a good choice if you're away and using a dog-sitter service. This way, your dog will be fed and watered even if the sitter is off-schedule.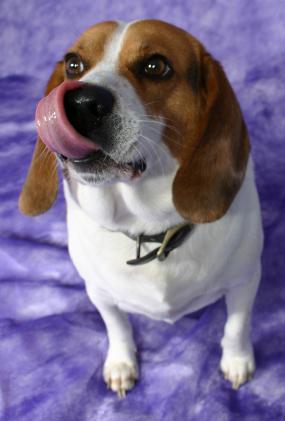 You've gotten some ideas for cute dog dishes and feeders--see our other pages for more cool dog stuff!
Return to Home Page