Dog Collars, Leads, Harnesses, & Strollers
Properly fitted dog collars or harnesses are essentials for all dogs. Dog collars and harnesses provide a place to attach license and ID tags and also to attach a lead. (PLEASE don't walk your dog without a dog collar or harness with lead attached!)
Collars come in all styles, sizes, and colors, from plain to fancy and everything in between. If you have one of the 'tough-guy' breeds, like a Doberman Pinscher or a Rottweiler, a leather dog collar with studs is an appropriate look for him--but the same type of dog collar would look silly on a tiny Pomeranian! The smallest breeds, such as Pomeranians, Maltese, Toy Poodles, or Papillons, look best sporting a dog collar style with a little more 'bling'. Rhinestone- or crystal-studded dog collars are stylish and 'little-dog' appropriate. If you like, personalized dog collars are available with your dog's name spelled out in crystals! For something a little less fancy in a dog collar, try a sturdy leather or webbing dog collar, available in a multitude of solid colors and patterns. One of the cutest collars I've seen is from PetSmart, so it's of good quality but moderately priced. Click on the following link to see this cute collar. BMB Pet Flower Power Dog Collar
If you're buying a dog collar for a puppy, take into consideration his breed, age, and how much he's expected to grow. You should be able to slip two fingers underneath his collar, but also make sure he cannot pull his head through the collar and get loose. You'll also need to monitor the fit as he grows to ensure that his dog collar doesn't become too tight. The fit must also be monitored if your dog gains or loses weight. (If you watch any of the popular animal rescue shows on television, you've likely seen dogs with collars actually embedded in the flesh from being too tight.)
A harness may be better for some dogs. These are comfortable and useful for dogs that like to pull on the lead. A harness prevents your dog from gagging himself when he pulls. Harnesses that discourage pulling are available. I recommend the Gentle Leader. It applies pressure to the bridge of the dog's nose and also to the back of his neck if he tries to pull or jump. Since these are the areas that mother dogs use to 'discipline' their unruly pups, the dog immediately gets the message without any discomfort. Our Lab-Shepherd friend, Ty, uses the Gentle Leader. Ty is only about 2 years old and is a big, active, very strong dog, but he is an angel on walks because of this harness! Another harness available is the No Jump harness, which restricts the use of the dog's back legs so he can't jump. (This harness can also be used without a lead attached.) Buster uses a standard harness when we go for walks. This works well for him since he always sports a bandanna around his neck.
I also recommend using a special 'seat-belt' harness for car rides. These comfortable harnesses buckle into your car's seat belt, but allow your dog some freedom of movement. Your dog will be held in place and won't become a furry projectile in case of an accident. This harness also prevents him from hurting himself or others if emergency personnel are called to the scene. Buster uses a model made by Four Paws, which has a padded chest strap and a loop on the back for the seat belt to pass through. It can also be used like a regular harness, as there is a metal D-ring on the back to attach a lead. We always use this harness on Buster for car rides, and since his front legs are a bit weak due to arthritis, the harness increases his stability during left turns!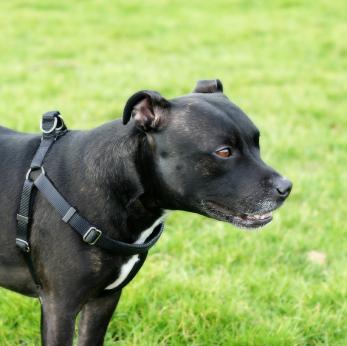 Now you need a dog lead to attach to your collar or harness! Just like dog collars, leads are available in all styles and colors. Get a dog lead to match your dog's collar or harness. Retractable dog leads are extremely popular and practical for the dog who likes to pull ahead. Extend, stop, lock, or retract your lead at the touch of a button! Sturdy and easy to use, these dog leads give your dog a little more freedom without losing control of him. PetSmart sells these, and they're not expensive. They seem to be getting more popular all the time. Our little friend Petey, a West Highland White Terrier, goes to the park on one of these leads--very convenient since Petey loves to chase squirrels, and his elderly 'parents' are unable to run alongside him. They just unlock the lead, and Petey can have some fun without the ability to run off--and the squirrels are happy too because they can still get out of Petey's reach!! Click on the following link to learn more about retractable leads and see if this is the right lead for your dog. Grreat Choice X-Small Retractable Lead


If your dog is small- to medium-sized and tires easily on long walks or has joint problems, a stroller may be just the thing. (That's right, a stroller!) Dog strollers look much the same as baby strollers but are configured so the dog can lie down and can't escape. Dog strollers range in price from about 80.00 to upwards of 180.00 for the extra-sturdy 'SUV' model that holds dogs up to 50 lbs. Most dog strollers also have compartments for toys and treats.
For the littlest canines, try a pet pouch or sling! These are similar to carriers for babies and allow you to carry your tiny fur-child close to you while keeping your arms free.
When you're traveling, wheeled carriers for small dogs provide the convenience of carry-on luggage for you plus provide comfort and security for your precious pup.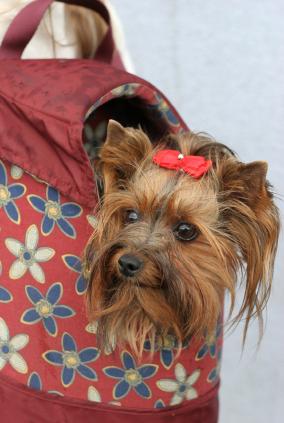 You can find a good selection of dog collars, harnesses, and leads in pet-supply stores. Not all stores carry dog strollers or carriers. Cherrybrook has a variety of dog strollers and carriers for your little darling. Your dog can now enjoy the outdoors and traveling and be comfortable and secure at the same time. Their best one, the Houndabout, is similar to a jogging stroller for 'human puppies' and is super-sturdy, has handy pockets and cupholders,and even parking brakes! It will hold dogs weighing up to 110 lbs. It's a bit on the pricey side but should last for years. Click on the link to see this great stroller. HoundAbout Pet Stroller Large


You're 'hooked up' with a dog collar or harness and lead! See our other pages for more great dog stuff!
Return to Home Page