Dog Beds, Crates, & Gates
Dogs need cozy dog beds for dog-naps (can't call them 'cat-naps', can we?) and night-night times. Make sure that the bed you purchase is the right size for your dog. He should have enough room to stretch out and still have about 6 inches left over at either end. There are all types of dog beds available: Round beds, rectangular beds, beds that resemble miniature couches, wicker beds, wooden beds, heated beds, cooling beds...even beds crafted to resemble 'human' beds! And if you like, you can even get a cover to match your decor!
Which is the best bed for your dog? If your dog is older or has joint problems (like Buster), an orthopedic bed or a heated bed might be just right for your dog. Both types will give your dog the comfort and support he needs. and you know those 'memory-foam' mattresses that we find so comfy? Now your favorite dog can enjoy that same comfort in a bed! If your dog has a 'bladder problem', a waterproof bed is a good idea. Chew-proof beds are ideal for puppies. Cooling beds are useful on a hot day if your dog is going to be outside for while. Also available are beds meant to fit crates. If your dog sleeps on your furniture, and leaves a little too much of himself behind, an attractive 'throw' is a great way to keep dog hair off your sofa (and your clothes).
Dog beds come in all price ranges too. You can buy a good bed from one of the many 'pet supermarkets', or you can order a more 'customized' bed from a catalog. Of course, the more elaborate the bed, the higher the price. High-end dog beds can cost over 400.00. It all depends on what you want for your beloved friend!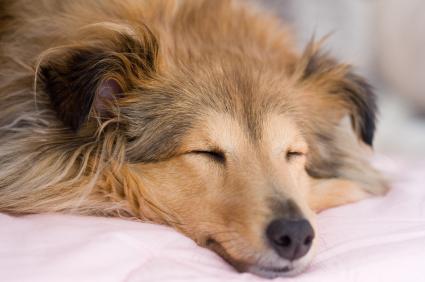 A dog crate is a good idea if you have a new dog (or puppy). This can help prevent 'accidents' since dogs are hard-wired not to soil their sleeping quarters, or if your dog has separation anxiety, which can cause him to become destructive when left alone. Don't worry that you're punishing your dog by placing him in a crate. Your dog will feel secure in his crate and will come to regard it as a 'safe spot'.
Make sure that the crate you purchase is big enough for your dog to stand up, lie down, and turn around in comfortably. You'll need a compact dog bed or a pad to put on the floor of the cage so your dog has a soft spot to nap. These pads are inexpensive and available at most pet-supply stores. (Actually, we use one as Buster's 'second' bed--very portable and easily washed!)
Dog crates come in all styles too, from durable plastic carrier-type crates to upscale 'dog houses' made of reinforced wicker. Our Lab-Shepherd friend, Ty, has separation issues, so he's confined to his crate--which is huge because Ty's a big dog--when he's alone. Ty's dog crate contains a cushy dog bed and plenty of room. He even eats his dinner in his crate--so it's a special place for him.
Save 20% on Top Paw Wire Crates at PetSmart!
Click here for some tips on successful crate-training for your dog.

If a crate doesn't fit with your idea of home decor, perhaps a dog gate is more appropriate instead. Dog gates work much the same as baby gates. They confine your dog to a certain room or area. Some gates also function as a type of 'door' in that they can swing open and shut without removing the gate from the door opening. If you use a dog gate, make sure that it is fastened securely in the opening in which it's used and that your dog cannot jump over it. Some gates are available in sectional pieces which can be used to form a sort of playpen when fastened together. We use a gate purchased from PetSmart which has the 'swing-door' feature plus a cool little 'mini-door' for Buster's 'feline sister'. This gives her privacy in the basement for feeding and litter-box time. Click on the link to see this gate. Extra-Wide Metal Walk Through Pet Gate and Extensions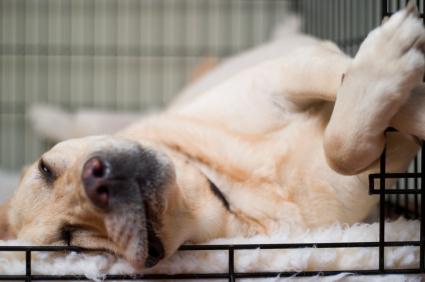 Here are some places to purchase dog beds, throws, crates, & gates:
PetSmart--here you'll find a nice variety of 'basic' dog beds for all sizes of dogs, as well as a selection of crates in all sizes.
Drs. Foster and Smith--catalog and online only. This company carries a complete line of dog beds in all types, shapes, and sizes, including waterproof, orthopedic, and heated beds. Attractive furniture throws are also available, as well as all types of crates and gates, including 'playpens'. Personalization is available on most beds for a small fee. Their Quilted Super-Deluxe Bed is the one we use for Buster. Since he has arthritis, this bed provides just the right amount of cushioning and support to make him comfortable. We bought him the 28"x48" rectangular bed--perfect for a dog his size and weight. He loves it! (Of course, we had to have it personalized...)

Cherrybrook--this is a fairly new pet-supply company that we've been checking out, and heir dog beds are high-quality and SO comfy!! We recommend their All-Season Snuggly Sleeper. Click on the following link to see this cozy bed. All Season Snuggly Sleeper Medium SAGE


Petco--another 'pet supermarket' store with a decent selection of 'basic' dog beds and crates.
Jeffers Pet--catalog and online only. A good selection of dog beds ranging from 'basic' to heated, cooled, and orthopedic beds. Also good selection of crates and gates. Your dog is comfy and secure!

Now that you've looked at dog beds and crates, see our other pages for more great dog stuff!
Return to Home Page