Traveling With Your Dog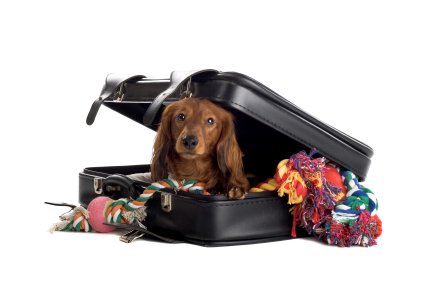 If you're planning on taking a trip, there's always the question of what to do with your dog. You'd like to take him with you, but you're not too sure if this is a good idea. You may have never traveled with your CBF before, and you don't know how he would handle a long trip in a car--or even a plane. But there are several things you can do to make the trip easier and more pleasant for both of you.

Keeping Him Safe
If you'll be traveling by car, and this is your first trip with Fido, you'll want to ensure that he's comfortable and relaxed. Some dogs absolutely love riding in the car, but some hate it, and then there's the issue of carsickness. If your furry friend is one of those pups that enjoys going bye-bye, consider yourself lucky. But you still need to ensure his comfort and safety. First of all, he should always ride in the back seat, preferably in the middle, and buckled in with some kind of safety device. (He might not like this too much, but it will help protect him in case of an emergency.) If your dog is a smaller guy (under 25 lbs.), he might like a comfy booster seat that is locked in by the seatbelt harness. This will keep him safe but still allow him to look out the window. We recommend the Pet Booster Seat from Drs. Foster and Smith. It's a bit pricey, but the X-Large size will hold a 25-lb. dog. This booster seat has a padded liner, zippered front storage pocket, and safety leash. Click on the link for more info about this useful seat. Pet Booster Seat Standard
. If your pooch is a bigger guy, the best thing to keep him confined and safe is a seat-belt harness. This device resenbles a regular harness, but has a loop in the back for the car's seatbelt to fit through. The strap that fits under his chest should have extra padding. This will prevent chafing in case of a crash if the seatbelt locks up. Your dog will still be able to comfortably sit, lie down, and move about, but the harness ensures that he will not become a canine flying object in case of an accident--and will keep a panicked pup from attacking rescue workers, or, worse yet, running out into oncoming traffic. Buster wears one of these on all car trips. Since he has arthritis, the harness not only keeps him safe, it helps to stabilize him and keep his balance when the car turns or stops suddenly. The one we use is from Drs. Foster and Smith. It fits Buster comfortably, and also has a metal D-ring on the back so a leash can be attached for use as a regular harness. Click on the link to see this harness. Car Safety Harness Fleece-lined Size: Medium


Traveling Tummy Troubles
If your dog suffers from carsickness, there are a few things you can do to minimize his discomfort. First of all, you'll need to determine if it's true motion-sickness or if he's just anxious about riding in the car. (Believe me, this has nothing to do with your driving skills.) Some dogs are just nervous because they're not used to riding in the car, or that objects are moving too fast and are disconcerting. If you've determined that your fur-child is a Nervous Nellie, you can help him become more at ease with some gradual conditioning. At first, just sit in the car with him without starting the engine. Let him hang out in the back seat while you read the newspaper in the front. Reinforce his calmness with pats, encouraging words, and small bits of a really tasty treat, such as bits of chicken. He'll get the idea that being in the car makes good things happen. Once you've done this a few times and his anxiety seems to have disappeared, then you can start the car and drive around the block, again reinforcing his good behavior with treats. Gradually increase the length of time spent in the car, and eventually your dog will feel right at home in the back seat. If this technique doesn't seem to be working too well, you can ask your veterinarian about using a mild sedative to relax your pup. For a more holistic approach, you can try Rescue Remedy, which is a homeopathic treatment found in any health store. It's an inexpensive liquid that is given by dropper or in your pet's water. It's tasteless, odorless, and completely harmless, and will calm Fido right down. In fact, This stuff is a good thing to have on hand in your medicine cabinet at home. (By the way, it also calms down anxious adults and cantankerous children.) Buster is generally a very calm dog, so we haven't had to use Rescue Remedy on him, but our neighbor has a very excitable Border Terrier who responds very well to it.
If you've determined that your bow-wow has true motion sickness, it's a good idea to dog-proof your car before the two of you set out on a trip. An inexpensive way to keep your upholstery clean is to buy a flannel-backed vinyl tablecloth from a discount store and put it over your back seat. The flannel backing keeps it from slipping out of place, and if your pup does vomit or have diarrhea, the vinyl cleans up quickly and easily. To help keep his tummy settled and (hopefully) prevent accidents from happening, don't feed him for eight hours prior to starting your trip, and don't give him anything to drink for two hours prior. He might still have dry heaves, but there won't be anything to expel. Once you're well on the road, you can give him ice cubes or small sips of water. You don't want him to vomit water all over your back seat, but you don't want him to become dehydrated either. If you've tried these suggestions before and they don't work that well for you, your veterinarian may be able to give you something or recommend an over-the-counter 'human' remedy that is also safe for dogs. And while you're out on the road, make sure you stop at least every four hours for a potty break (more often if he's very young). Most roadside rest stops have areas designated as dog walks so your pup can 'empty out' and stretch his legs. You might try changing to a longer leash so your dog can romp a bit--you might even bring out a ball or other toy for a quick game of fetch. both of you will enjoy these little breaks.
Your Bye-Bye Kit
If you're going on a trip for more than a day or two, you'll need to pack supplies for your CBF. Your kit should include enough of his regular food and treats for the whole trip (this isn't a good time to experiment with new foods), proper identification attached to his collar (including a temporary address if you'll be staying somewhere other than home for an extended length of time), an adequate supply of whatever medications your dog may be taking, plastic bags for cleanups, a brush, a few favorite toys, and a bed or his favorite blanket. This may sound like a lot, but you want Fido to be as comfortable on the road as he is as home.

Dogs on a Plane
Actually, this is one thing that I do not recommend. Unless your canine traveling partner is small enough to fit in a carrier that can be stowed under your seat on the plane, he will be put in a crate and placed in the cargo hold. You will not be there to comfort him if he is frightened or queasy. And bear in mind that air temperatures in the cargo hold can change and become very hot or very cold. So if your flight is delayed and stuck on the runway, and it's a warm day, the temperature in the cargo hold can become intolerable for your pet. Many dogs do not adapt well to air travel. I would suggest air travel only as an absolute last resort.

Pet-Friendly Places to Stay
If you and your pooch are looking for a place to sleep for the night (or several), you have several choices. Some hotel chains are pet-friendly, but this is definitely something you'll want to check out when you're first planning your trip. Some that are pet-friendly may have a weight limit, so your Dogue de Bordeaux or Great Dane may not be too welcome at an establishment whose weight limit for canine guests is 25 pounds. The last time I checked, Red Roof Inn permits dogs, but I'm not certain about size limitations. A good place to find canine-tolerant accommodations is DogFriendly.com, where you'll find listings of hotels, motels, campgrounds, RV parks, beaches, parks, outdoor dining establishments, and other venues that allow you and your pooch to spend quality time together. Although this website is updated on a regular basis, it still wouldn't hurt to call ahead to ensure that your destination's pet-friendly policy has not changed. Click here for DogFriendly.com.

Here are the 10 favorite U.S. pet-friendly resorts and hotels according to USA Today:
1. El Portal Sedona Hotel, Sedona, AZ: Fenced yards and free petsitters.
2. Red Mountain Resort, St. George, UT: Offers hikes with shelter pets.
3. The Benjamin, New York, NY: Pet mini-bar (really?), on-call veterinarian, BarkBox goodies.
4. Fairmont, Washington, DC: Pet treats by the Executive Chef during afternoon tea.
5. Hotel Monaco, Alexandria, VA: Yappy hour, no fees for guest pets.
6. W Hotel Midtown, Atlanta, GA: Yappy hour, walking distance to Piedmont Park.
7. Loews Coronado Bay Resort, San Diego, CA: Doggie surf lessons (only in California!), room service for canine menu.
8. The Little Nell, Aspen, CO: Puppy jet lag kit, free book on pet-iquette.
9. The Loden, Vancouver, BC: Walk to Stanley Park, free Modern Dog magazine. (Okay, this one's not exactly in the U.S.)
10. Galleria Park Hotel, San Francisco, CA: Eco-friendly dog bowls, yappy hour with big views.

Once you and your pup have checked into your room, make sure your furry buddy stays on his best behavior so you'll be welcomed back with open arms should you decide to return in the future. This means taking your pal out for regular potty breaks in designated areas, cleaning up after him, and making sure he doesn't chew on anything in the room. Your fur-child may be the absolute model of good behavior at home, but he's in a strange place, which can lead to strange behavior because he's stressed. This is another instance where Rescue Remedy can be helpful. If you've brought along his bed or favorite blanket, bring it into the room along with a familiar toy or two. If you surround him with some of the smells and comforts of home, he'll be more comfortable and less stressed.

If You Can't Take Him With You
There will almost always be an occasion when you're going on a trip and your CBF can't accompany you. In this situation, the best thing for him is to have a trustworthy person stay with him in your home. If it's someone you dog knows and likes, all the better. If you must use the services of an 'outsider'--for example, a professional pet sitter--PLEASE do your homework on this person before you place your precious pet's well-being into their hands. They should be very experienced and be able to provide solid references that you can contact. Well in advance of your departure date, have the sitter come to your home for a meet-and-greet interview with you and your dog. Ask lots of questions about their background, years of experience, etc. Make sure the sitter understands exactly what is expected, especially if your dog has special needs. It's a good idea to 'throw' some scenarios at the person and ask what they would do in such a situation. Also, while you're conducting the interview, observe closely how your dog and this person react to each other. Your dog may be a little excited or nervous at first, but should soon be relaxed and content in this person's presence. The potential sitter should also be relaxed and friendly. Allow enough time in the interview for your dog and the sitter to become thoroughly acquainted with each other. Perhaps the sitter could feed your pup a treat or two, thus associating the sitter's presence with good things happening.
If you're uncomfortable with the idea of a relative stranger staying in your home, you might try placing your dog in a kennel for the time you'll be gone. One of the best ways to find a good kennel is by word of mouth, either from someone you know or your veterinarian. You'll want to visit the kennel and conduct an 'interview' with the staff several days prior to your departure. Ask questions regarding staff-to-pet ratio, how much exercise/playtime/social time the dogs get, whether someone will be at the facility 24/7, etc. (The best kennels have a human on the premises at all times.) Also ask to take a tour of the facility so you can see how large the cages are and how clean they're kept. Ask their policy about food from outside if you prefer that your dog eats what he gets at home. Advise the staff if your dog has special needs or is on any type of medicine. If it's a good kennel, the staff should be happy to comply with all of your requests.

I remember the one and only time Buster was kenneled. His 'daddy' and I were going to be in Florida for ten days and couldn't take him with us. We decided to put him in a kennel recommended by our vet. When I went there for the interview, I was impressed by the cheerful staff, the cleanliness of the place, the spacious runs for the dogs, and most of all, the playground outside!! That's right, a playground. It was a large fenced-in area with wading pools, a sandy area for digging, and lots of toys. Several dogs were enjoying themselves in this enclosure, and two humans were keeping an eye on things. It looked like fun. We thought Buster would have a great time at this 'doggie summer camp' while we were in Florida. Well...Buster refused to eat for four days. I felt so guilty that I wanted to cut our trip short, but on the fourth day when I called the kennel, I was told that Buster had perked up considerably and had started eating again. We ended up staying in Florida as planned, and had a happy reunion with Buster when we returned. However...since then, if we're going on a trip and can't take Buster, his 'auntie' doggy-sits for us. Our sweet boy gets lots of spoiling and we know he's in good hands.

Happy Trails!!
You've planned the perfect getaway for you and your CBF!! Buster hopes you have a wonderful time--don't forget to visit our other pages for more fun and informative dog stuff!!
Return to Home Page