Geocaching, the Doggie Scavenger Hunt

The weather's perfect and your dog is bored with all of his toys. He's wanting you to come outside and play with him, but going on another walk just sounds, well...BORING. What's a canine-parent to do? Why, go geocaching, of course!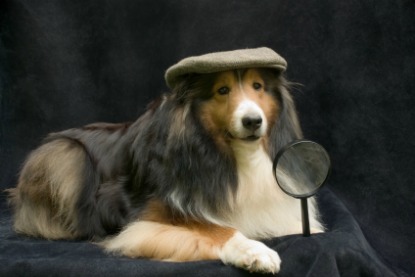 ---
What is Geocaching?
If you've ever gone on a scavenger hunt, geocaching is similar. It's a non-competitive treasure hunt in which the player, also known as the geocacher, uses a GPS or smartphone with a special app to find containers containing a log book and trinkets left behind by other participants. When the player finds the container, he or she records the time and date of the 'discovery' and has the option of taking a trinket and leaving another in its place. The trick (besides being clever enough to find the container) is to keep others in the area from knowing what you're up to. Your CBF is the perfect foil, since it appears like the two of you are merely enjoying an afternoon stroll or a hike in the woods.



How to Get Started
---
The equipment required for this sport is pretty simple. First, you'll want to go to the official geocaching website (www.geocaching.com) to create a free account and choose a nickname. Then (as mentioned earlier), you'll need a GPS or a smartphone with the geocaching app. (Basic GPS units start at about $100 and can be purchased at Target, Walmart, or just about any place that sells electronics.) Once you've got your gear, choose a location and search the website for caches in the vicinity of your location. The website will also provide further instructions on how to conduct your searches. Then...go for it! After you've found your cache and recorded your time and date in the logbook, put the cache back where you found it so the next player can have the fun of the find. A caveat: If you're going geocaching in a park, make sure it's dog-friendly first! After all, you brought your CBF to enjoy some quality time with you--and to help you sniff out the caches.




---
But What About the Dog?
A canine who participates in geocaching is called a 'geohound'. (See, he even gets his own title!) The persons who hide the caches rate the terrain between one star (for easiest) to five stars (most difficult). Most hiding areas are between one and three stars, easy enough for most pups (and people) to handle. Then the hiding places themselves are rated using the same system depending on how mentally challenging the hiding place is to find. A caveat: it's difficult to geocache in the rain because the satellite signals that the GPS uses can be affected by heavy cloud cover. It's best to geocache on a dry day (which is more comfortable for you and your CBF anyway).



---
Ready, Set...Geocache!
If geocaching sounds like fun to you, you're in good company. The sport began in 2000 and has since attracted at least 5 million geocachers worldwide. If you want to geocache while you're traveling in another country, there's a good chance that you'll be able to do so.




Geocaching is a great way for you and your dog to enjoy a new activity along with some fresh air, exercise, and bonding! Now that you've learned about this cool sport, check out our other pages for more fun (and informative) dog stuff!