Dog Clothing and Shoes
Let your dog make a fashion statement with cute dog clothing and shoes! (Yes, shoes!) Just about any type of garment that is available for humans is also available for dogs, such as t-shirts, polo shirts, various types of coats and sweaters--even Halloween costumes and pajamas!
Of course, not all dogs enjoy dressing up. Some will resist your efforts to attire them, while others will let you put the garment on them, and then try to remove it. Others will just sigh and give you the 'you've got to be kidding' look. (Buster draws the line at bandannas.)
But then there are the dogs who LOVE making a statement with their dog clothing! Our little Pomeranian friend, Armani, always looks adorable and stylish in his tiny polo shirts (with the collar flipped up of course--Armani's a trend-setter)and tennies! And he actually seems to enjoy wearing dog clothing--not to mention all the attention he receives!
Lots of different kinds of shirts are available for your dog's fashion statement. T-shirts, either plain or with slogans, are great for casual times. If the weather's on the cool side, a hooded sweatshirt will help your dog stay cozy outdoors, especially if he's a short-coated guy. This little pug looks adorable and stylish in her trendy hoodie!! Own a pug? Check out www.i-love-pugs.com for lots of useful info about these cuties!! A polo shirt will help him to look his best for dressier occasions. Let your dog's clothing bring out his most unique side! If it's really chilly outside, then a dog sweater will keep him snuggly warm. Cute dog sweaters are available in several styles, from Shaker-type knit to a hefty cable-knit dog sweater. Some dog sweaters fit over the front legs only, while others have straps that fit over the rear legs as well. All dog sweaters are 'contoured' for necessity. (Putting a 'human' sweater on your dog can become a bit messy!) For the bitterest cold days, a dog coat will keep your best friend warm and fashionable. Try a plaid wool coat on your Scottish Terrier! Warm, stylish, and appropriate for your dog's breed heritage! If rain is in the day's forecast, your best friend will stay dry and comfy in a yellow slicker, complete with hood--and matching boots! Dog sweaters and coats are some of the most practical articles of dog clothing available. Click here to see an adorable sweater for your pooch. Classic Cable Sweater Large Red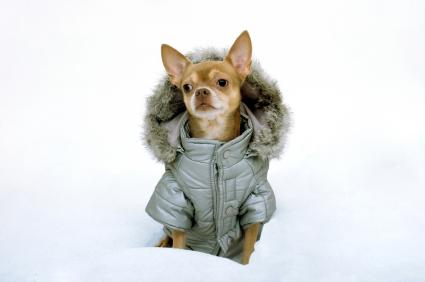 And then...there's the 'private' dog clothing your dog would rather not discuss--at least, not in public. These useful garments help to keep your house clean and your mind at ease. Is your dog recuperating from illness or surgery? Or is he old, and sometimes has trouble letting you know in time that he needs to 'empty out'? Then these 'training pants' are just what you and your dog need! They're comfortable and washable, and will prevent accidents from ruining your flooring. Several styles, colors, and sizes are available, and in versions for both male and female dogs. The bonus of these articles of dog clothing is that males can no longer 'scent-mark' their territory with urine--and female dogs aren't accessible to males when they wear one of these! (To say nothing of the mess they prevent...)


Shoes for your dog? You might feel this is a bit 'over-the-top', but think about it! Well-fitting boots will keep your dog's feet warm and dry in cold or wet weather, as well as protect his tender paw pads from contact with irritating road salt and potentially lethal spilled antifreeze. Boots are definitely one of the most practical articles of dog clothing available.
The best dog boots are a brand called Muttluks. These snug-fitting dog boots were originally created for sled dogs competing in the Iditarod to help prevent frostbite and cuts from sharp ice. They're comfortable, non-skid, and durable. These dog boots are just what the vet ordered for icy walks! Click here to check out Muttluks. Muttluks Dog Booties
Of course, if you want something more frivolous and fun in a dog shoe, try some tiny high-tops made especially for doggie feet! You can find them in a multitude of colors. They're really cute--but be forewarned. Not all dogs will tolerate shoes on their paws, so see if you can return them if your dog absolutely refuses to have anything to do with them--other than chewing them up!
I've found a great website where you can find adorable clothes for your dog, as well as other fun accessories. It's called 'Angels to Animals', and a portion of each sale is donated to charity. Click here to visit this site and help a pup in need!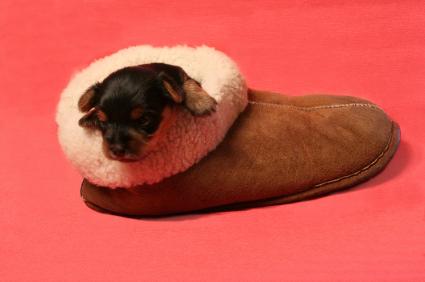 Dog clothing definitely brings out your pup's most unique style! He's all dressed up and ready to go! Check out our other pages for more cool dog stuff!
Return to Home Page